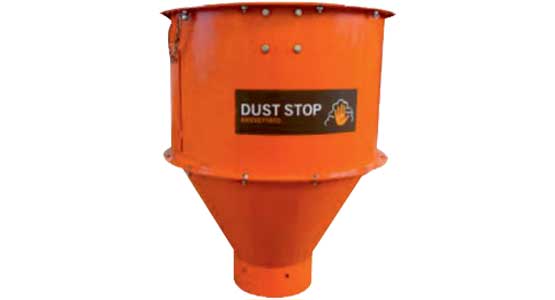 The dust stop hopper is used in all kinds of dusty loads and eliminates the need for filtration systems. Thanks to its working principle, it traps the dust exposed during the product flow into the product itself.
– Automatic system DS-A
– Manual system DS-M
All type of granular products
Better operating areas
Clean loading stations
Dust collected with the product
Extra-profit
In addition to complying with occupational health and safety regulations and advantages listed above, the DEPART DUST STOP HOPPER users will also benefit from different economic advantages:
-No need to separate and store the dust from the product, so there is no need for extra costs (The powder stays in the truck with the product)
-The dust remains in the product
-Elimination of the necessity of vacuuming dust or using air filters
-The operation area will stay more clean, so there won't be extra effort need for cleaning and more time will be left for other tasks.
-Protects the health of employees and also reduces injuries or illnesses
As Depart, we offer different types of machinery and equipment which will provide production solutions. Besides, you can also supply vitamins, minerals, premixes and flour additives from Depart.
Please use the following information to contact us so that we can direct our nearest sales staff to you.