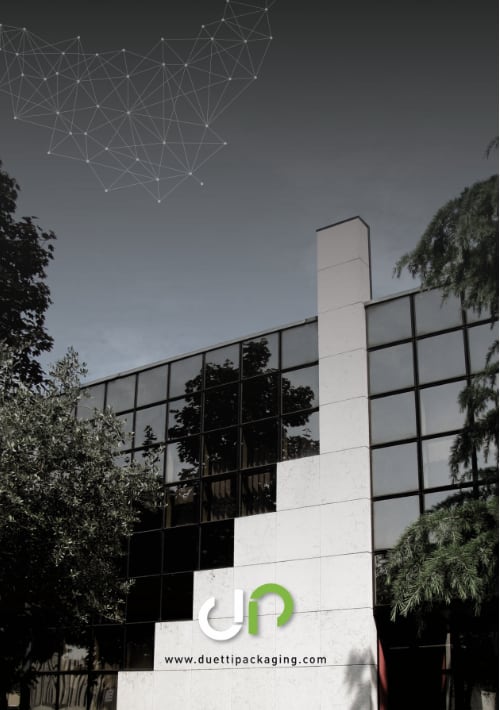 DUETTI PACKAGING At the forefront of automation.
Many years of experience in automation systems, combined with consolidated technical knowledge, have ensured that Duetti Packaging is the ideal partner in the design and construction of end-of-line packaging systems. The company's core business lies in creating tailor-made solutions that allow our customers to build an automated system that takes their products from process to logistics, through a single supplier able to provide quality technical and after-sales support.
The product range is configured to offer the best solution to a customer's production needs: Depalletizers, Carton Formers, Conventional or Robotic Case packers, Carton Closer, Palletizers, Robot cells, Pallet wrappers, Conveyor systems, safety guarding, and ancillary items.
Duetti Packaging counts among its customer's major brands in the Food, Beverage, Personal Care, household cleaning, Chemical, and Pharmaceutical sectors, but not only; as a result of the attention to detail taken during R&D, a range of machines has been created composed of modular, state-of-the-art solutions that stand out in the competitive context, to the satisfaction of both customer & supplier.
In the international and national context, the solutions implemented have led the brand to be renowned in the sector, Specifically, the ability to coordinate the installation of a complete system makes the service offered a strong point for optimizing start-up and testing. All equipment is manufactured in-house, with PLC and ROBOT programming done by Duetti staff thus allowing the full potential of industry 4.0 realization of integrated solutions from the point of view of line supervision and data tracking.
A product such as a labeled, corked, and ready-to-consume bottle of wine or oil is handled automatically from the phase in which the bottles from the glassworks are removed from the pallets and sent to the bottling line, to the next phase in which the ready bottle is placed inside the carton and the carton closed before being palletized on a pallet ready for dispatch complete with film wrapping and labeling.
According to the collaboration agreement between Duetti; Depart first undertakes the sales operation in Turkey, Zambia, Uzbekistan, and Angola. Depart will also continue its sales operation in other countries too.