Roller Mill Rolls in the Milling Industry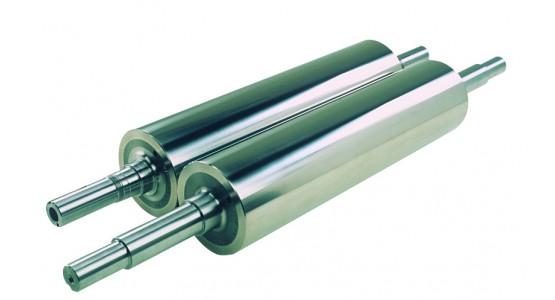 Roller mills are machines used for grinding various grains, such as wheat, maize, barley, oat, and rye. In use since very old time, these systems have evolved over time. These machines that have advanced technical equipment today are supported with pneumatic and automation systems.
Varying depending on product type and capacity, roller mills are equipped with many electronic, mechanical, and pneumatic parts. These parts' quality, durability, and functionality are critical in ensuring smooth and efficient grinding operations.
Roller mills, which are used for turning the grains coming from the cleaning unit into flour, are basically made of two roller mills rotating in opposing directions and components working in integration with them. The grains are compressed and broken down as they go through these rolls. The system's grinding sensitivity is determined by adjusting the distance between the surfaces. Various mechanisms are used to ensure proper product feeding, scraping of sticking products, and surface protection.
As a result of the advances in electronics and automation, roller mills now have many functions and features that enhance efficiency. Roller mill rolls stand out as one of the most significant elements in the grinding process. Thanks to the contribution of technological developments to production processes, we see that roller mill rolls have also advanced. Each parameter regarding these parts also impacts quality, productivity, and energy efficiency.
The materials and techniques used in the manufacturing of roller mill rolls vary depending on specific needs. These parts, which are critical in grinding grain products, are classified under two categories, namely crushing and liso (reduction) rolls. In today's rolling mills, there are certain mechanisms available to ensure faster and easier roll replacement. Used to reduce downtime and secure operational continuity, these mechanisms contribute significantly to milling plants.
Choosing the proper roller mill rolls is essential for an efficient and effective grinding operation. Factors such as materials used, durability, grinder quality, and design directly impact flour quality. The high-quality and special alloy rolling mill rolls we supply as Depart are manufactured using the method of double-poured centrifugal casting.
The chilled iron rolls we supply for milling plants across the globe are classified as fluted and smooth rolls. These parts are manufactured in compliance with the highest quality standards to meet the specific needs of mills. The journals (shafts) are made of alloyed rolled steel bars, eliminating any porosity, spots, or other casting defects.
The right choice of rolling mill rolls, which play a determining role in the ultimate quality of the flour produced in a mill, contributes significantly to preventing grain waste and loss, ensuring consistent quality, and boosting productivity. In addition, they impact energy efficiency and business continuity to a great extent.
The foremost criteria when choosing rolling mill rolls is the specific requirements of the grinding operation. It is important to consider the grain variety, desired properties of the flour to be produced, and the milling plant's operational conditions. Long-lasting and durable rolling mill rolls that offer ease of use enable smooth and efficient grinding operations.
As Depart, we contribute to the business continuity and productivity of milling plants worldwide with the rolling mill rolls we supply. Our spare parts, which are developed and manufactured by experienced engineers and experts, provide continuous support to the global milling industry.
If you wish to improve the efficiency and quality of the grinding operations at your mill, you may contact our sales representatives to learn more about our durable rolling mills rolls. Regardless of your mill's location, you can smoothly meet any spare part needs you may have via our e-commerce platform Depart Shop (shop.departspares.com), available 24/7.